BUSHMILLS IRISH WHISKEY® PRESENTS:FLOGGING MOLLYLIVE FROM DUBLIN, IRELANDON ST. PATRICK'S DAY! PERFORMANCE TO STREAM FROM WHELAN'S IRISH PUB IN DUBLIN
ON WEDNESDAY, MARCH 17 VIA FLOGGINGMOLLYLIVE.COM EARLY BIRD TICKETS, EXCLUSIVE BUNDLES, VIRTUAL BAND MEET & GREET AND OPPORTUNITY TO PARTICIPATE IN BUSHMILLS® "FIRST WHISKEY" PROGRAM AVAILABLE NOW BAND DONATING A PORTION OF PROCEEDS TO SWEET RELIEF CREW FUND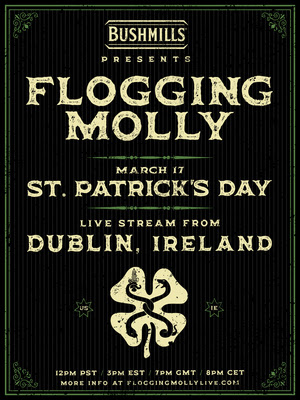 DOWNLOAD HI-RES ASSETS With the grit and tenacity that have exemplified their history to date, Flogging Molly is excited to announce their upcoming St. Patrick's Day livestream performance. Taking place Wednesday, March 17 at the iconic Whelan's Irish Pub in Dublin, Ireland, in partnership with Bushmills Irish Whiskey®, the world's oldest licensed whiskey distillery, Flogging Molly will put on a St. Paddy's Day party for the record books, bringing the good times, great whiskey, vivid stories, and music of the band – straight from Ireland – directly to fans around the world. Check out a trailer for the show HERE. Early bird tickets for the livestream are available now via FloggingMollyLive.com and will run through Friday, March 12 at midnight EST. Various exclusive streaming bundles include a t-shirt, limited edition poster, Lucky Bag, virtual meet & greet with the band, and access to a stripped-down acoustic set of fan favorites and Irish traditional songs. The show begins at 12 pm PT, 3 pm ET, and 7 pm Ireland/GMT time, and from there, purchasers will have full access to stream the entire show whenever they like through midnight ET on Sunday, March 21. Additionally, in lead up to the event, Bushmills® is offering fans the opportunity to partake in their "First Whiskey" program. As a friendly Irish gesture ahead of St. Patrick's Day, whiskey lovers 21+ across the U.S. can safely order a Bushmills Irish Whiskey® to-go from their neighborhood pub and the beloved Irish whiskey will cover the cost, through Thursday, March 18. Terms and conditions apply, learn more details on the Bushmills® "First Whiskey" Rebate Program HERE. As we all know too well, lockdown has a way of making even the basics extremely complicated. Flogging Molly's Dave King and Bridget Regan have been in Wexford, Ireland since lockdown was declared nearly one year ago, while the rest of the band have been in their homes across the U.S. And while there is nothing easy about crossing international borders for a full production live show at this moment in history – quarantine policies are ever-changing as the global response continues to evolve – it's this reality that we all share, which is exactly why the band felt it needed to happen this St. Patrick's Day. With the safety of the band, touring and film crew, and everyone on hand as top priority, the next priority was a good time – and a loud, raucous, and joyous celebration of all that we – the band and fans – have to be thankful for. Says Dave King: "In any house, even in the darkest of times, there's always a room, a room for celebration. In over twenty years together, this is our first ever show from the Emerald Isle on St. Patrick's Day. Welcome to Ireland. Let's celebrate! From our family to yours, Sláinte!" Tickets will start at $15 per household, with unlimited streams available across 5 days (March 17-21). The live airing, pre-show and after-show acoustic performance will be directed by Dublin-based director Richie Smyth (Irish director of multiple U2 videos, feature films, Guinness commercial spots and more), and Flogging Molly have partnered with global event promoter Danny Wimmer Presents for the production. A portion of the band's proceeds from ticket sales will go directly to a favorite charity of theirs, Sweet Relief's COVID-19 Crew Fund, which supports road crew members grounded and out of work during the global pandemic. Flogging Molly is comprised of Dave King (lead vocals, acoustic guitar, bodhran), Bridget Regan (violin, tin whistle, vocals), Dennis Casey (guitar, vocals), Matt Hensley (accordion, concertina, vocals), Nathen Maxwell (bass guitar, vocals), Spencer Swain (mandolin, banjo, guitar, vocals), and Mike Alonso (drums, percussion). Starting out as the house band for Molly Malone's in Los Angeles and building a loyal following through endless touring, Flogging Molly has become a staple in the punk scene over the past 20 years, kicking off with its raucous debut showcase, Swagger, and continuing through it's five additional studio albums. With numerous late-night television appearances under their belt, its sell-out Salty Dog Cruise through the Caribbean, and yearly St. Patrick's Day Festival in Los Angeles, the band is currently working on the Rise Records follow-up to its latest LP, Life Is Good. Recently, the band reissued Swagger with exclusive tracks, an Irish traditional set, a 60-minute video feature, and exclusive merch in a collectable box set. # # # About Bushmills Irish Whiskey®:Bushmills® Irish Whiskey is crafted with care and passion at the world's oldest licensed whiskey distillery, The Old Bushmills Distillery. Bushmills has more than 400 years of whiskey-making heritage, passed down through generations. The brand's award-winning triple distilled single malt whiskeys are renowned for their signature smooth taste and famous house style: Bushmills® Original, Bushmills® Red Bush®, Bushmills® Black Bush™, Bushmills® 10 Year Old Single Malt, Bushmills® 16 Year Old Single Malt and Bushmills® 21 Year Old Single Malt. Learn more at www.bushmills.com. Trademarks owned by The "Old Bushmills" Distillery Company Limited. ©2021 Proximo, Jersey City, NJ. Please drink responsibly. About Danny Wimmer Presents: Since 1993, music industry veteran Danny Wimmer has been producing concerts and festivals, both large and small. In 2011, he formed Danny Wimmer Presents, which now produces several of the largest rock and alternative festivals in the U.S. By combining A-list talent with local cuisine and culture, DWP has become recognized within the industry for delivering the highest-quality entertainment experiences to fans, artists, sponsors, partners and host cities. DWP creates memorable and all-encompassing festival experiences, leaving both consumers and partners with lasting and meaningful impressions. DWP will continue to add new music festivals to its already stellar portfolio, which currently includes Aftershock, Bourbon & Beyond, Epicenter, Hometown Rising, Louder Than Life, Sonic Temple Art + Music Festival, and Welcome To Rockville. Previous DWP festivals include Rock On The Range, Carolina Rebellion, Northern Invasion and more. In 2020, DWP launched the popular digital series Offstage with DWP and ventured into the digital content curation space, promoting pay-per-view live streams.
About Sweet Relief:Founded in 1993 by singer-songwriter Victoria Williams, Sweet Relief Musicians Fund provides financial assistance to all types of music-industry professionals who are struggling to make ends meet while facing illness, disability, or age-related problems. In March of 2020 Sweet Relief launched a COVID-19 Fund, with a limited amount of funds available to be used specifically for musicians and music industry workers affected by Coronavirus. Funds raised will go towards medical expenses, lodging, clothing, food, and other vital living expenses to those impacted due to sickness or loss of work.