STEEL CITY CONApril 8-10, 2022
STEEL CITY CON APRIL 8-10, 2022
GET TICKETS NOW!BUY TICKETSApril 2022 Con News
Post Gazette Story: Go Griswolds! Beverly D'Angelo, Anthony Michael Hall have 'Vacation' reunion at Steel City Con

QUAID / HENRIKSEN CANCELLED. Please see Facebook page for photo op information / rescheduling
Watch a video message from CHEVY CHASE!
Photo Op Schedule Released
Hayden Panettiere postponed due to family reasons
Christopher Lloyd and Robby Benson now coming!
Christie Brinkley Coming April 9 & 10
Steel City Con Official Fan Facebook Forum – Chat with other fans, easily ask questions and get the inside scoop on con happenings.
Event Room Schedule & Price List Available!
Photo Ops Available for Sale!
VIP Experience Add-On Now AvailableVIP Pro Photo Line Access9:30 AM Event Entry – (corresponding to your ticket type)VIP Seating in Events Room (First Come, First Serve)VIP line access for headliners and other celebrities (where available – not Chevy Chase or Robert Englund).VIP lanyard, Tote, T-Shirt (included)VIP Merchandise can be picked up at the Official Steel City Con Booth*VIP Add On requires the purchase of a General Admission Single Day or 3 Day Pass.
COVID-19 Related Disclaimers
Masks nor vaccines are not required.
An inherent risk of exposure to COVID-19 exists in any public place where people are present. COVID-19 is an extremely contagious disease that can lead to severe illness and death. According to the CDC, senior citizens and guests with underlying medical conditions are especially vulnerable. By visiting Steel City Con, you voluntarily assume all risks related to exposure to COVID-19.
Christopher Lloyd
Christopher, who has 238 credits, is best known for his roles on Back to the Future, Addams Family, Clue, Taxi, Cyberchase, One Flew Over the Cuckoo's Nest, and more! Christopher, who was last at Steel City Con in 2017, will make a rare 3-day appearance, along with Christina Ricci. Great Scott!
Buy Tickets to Meet Christopher Lloyd
Buy a Christopher Lloyd Professional Photo
Robby Benson
Robby is best known as the "Beast" in the Disney classic, Beauty and the Beast. Additionally, Robby co-wrote the hit song in The Breakfast Club ("We are Not Alone") and has 76 total credits. Robby will be appearing alongside Paige O'Hara (Belle), for only the 3rd time ever!
Buy Tickets to Meet Robby Benson
Buy a Robby Benson Professional Photo
Devon Sawa
Devon is known for his roles on Casper, Final Destination, Little Giants, Nikita and much more!
Buy Tickets to Meet Devon Sawa
Buy a Devon Sawa Professional Photo
Chevy Chase
Chevy Chase, one of the greatest comedian actors of all time, is known for so many iconic roles: Caddyshack, National Lampoon's "Vacation" movies, Three Amigos!, Funny Farm, Fletch, Saturday Night Live, and more! Join Chevy for "Vacation" and "Caddyshack" reunions. Saturday & Sunday only.

Buy Tickets to Meet Chevy Chase
Buy a Chevy Chase Professional Photo (Still Available)
Buy Chevy Chase Autograph Tickets (*Presale Only – Limited Quanities SOLD OUT)


Robert Englund
Best known as "Freddy Krueger" from "A Nightmare on Elm Street", Robert has 163 acting credits and is a true horror legend. Excited for his first con visit to Pittsburgh, he says "Tell 'Em Freddy Sent Ya!" What a Rush! Robert will have his "glove" in all photo ops. Limit 2 items per person.
Buy Tickets to Meet Robert Englund
Buy a Robert Englund Professional Photo
Buy a Robert Englund VIP Package
Christie Brinkley
Christie, one of the greatest supermodels of all time, appeared as the "girl in the red Ferrari" in Vegas Vacation and National Lampoon's Vacation. She has also appear in Mad About You, Ugly Betty, The Goldbergs, Parks and Recreation, and Jack and Jill. She was also the face of CoverGirl for 25 years.
Buy Tickets to Meet Christie Brinkley
Buy a Christie Brinkley Professional Photo
Jon Bernthal
Jon is best known for roles as "Shane" on The Walking Dead, "Frank Castle aka Punisher" on The Punisher, in addition to roles on Wolf of Wall Street, Eastwick, and many more!
Buy Tickets to Meet Jon Bernthal
Buy a Jon Bernthal Professional Photo
Christina Ricci
Christina is known for her work in Addams Family, Casper, Sleepy Hollow, The Ice Storm, and more recently, Yellowjackets and the Matrix Resurrections. She is making a rare 3-day appearance. Christina Ricci VIP passes are now available.
Buy Tickets to Meet Christina Ricci
Buy a Christina Ricci Professional Photo
Matthew Lewis
Matt is best known as "Neville Longbottom" in the Harry Potter movies.
Buy Tickets to Meet Matthew Lewis
Buy a Matthew Lewis Professional Photo
Hayden Panettiere (POSTPONED DUE TO FAMILY REASONS)
Hayden is best known for her roles on Nashville, Heroes, One Life to Live, Guiding Light, Remember the Titans, Joe Somebody, A Bug's Life, Dinosaur, and more!
Buy Tickets to Meet Hayden Panettiere
Buy a Hayden Panettiere Professional Photo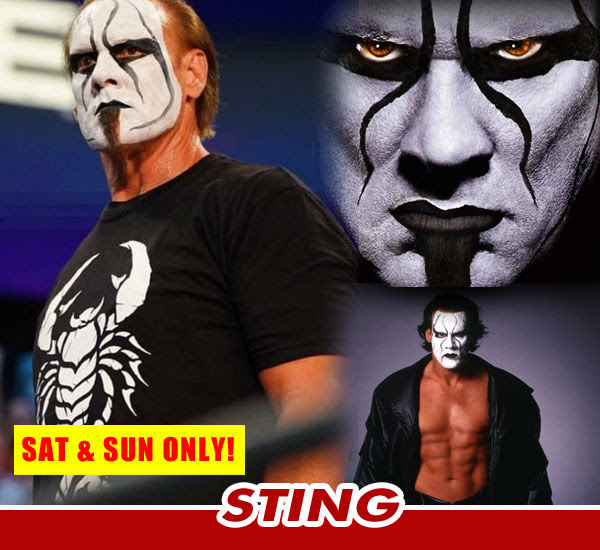 Sting
Sting, one of the greatest wrestlers of all time, has 26 total championships throughout his career. He was inducted in the TNA Hall of Fame in 2012 and WWE Hall of Fame Class in 2016. Sting will be attending alongside his tag team partner Darby Allin. Sting will appear in full makeup, for a rare 2 day appearance.
Buy Tickets to Meet Sting
Buy a Sting Professional Photo
Lance Henriksen
Lance has over 260 credits, and is best known as Frank Black in Millennium, Bishop in Aliens, General Tesler – Tron: Uprising, and Lawrence Wells in Hannibal.
Buy Tickets to Meet Lance Henriksen
Buy a Lance Henriksen Professional Photo
Beverly D'Angelo
Beverly is best known as "Ellen Griswald" in the "Vacation" movie series, but also starred on Entourage and has 125 credits!
…