FRAYLE
Release Bewitching New Video For "Treacle & Revenge"
From Anticipated Album Skin & Sorrow
Out July 8 Via Aqualamb Records
See The Video HERE
Ritual Doom Metal Act, Fronted By Gwyn Strang &
Featuring Sean Bilovecky (formerly Disengage),
On Tour With Cradle Of Filth Through June 11
Recently Signed To The Oracle Management,
Globally Represented By Dez & Anahstasia Fafara,
And Hailed As An "Artist You Need To Know" By Revolver
Pre-Sales For Skin & Sorrow Available Now HERE
Each Album Comes With Accompanying 100-Page Art Book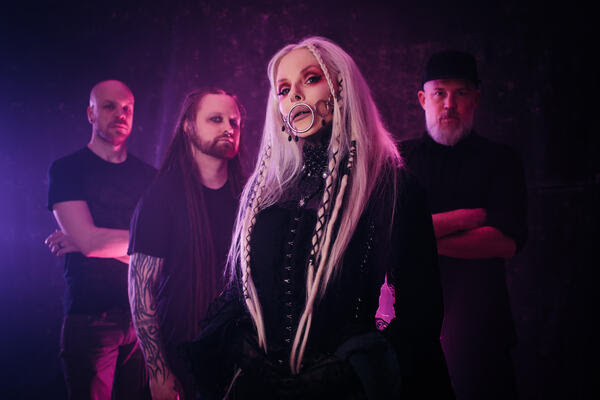 (Photo courtesy Frayle)
As Frayle continues getting the masses ready for the onslaught of their anticipated new album Skin & Sorrow, out July 8 via Aqualamb Records, today the Cleveland-based ritual doom metal act releases a new single "Treacle & Revenge" accompanied by a bewitching video full of beautifully cryptic cues and hazy effects that will appeal to both goth and horror fans.
Starting off with the sludgy guitars of Sean Bilovecky, frontwoman Gwyn Strang begins with an ethereal whisper before devolving into a full-on tempered scream that accentuates the song with an intense energy that beckons the audience to listen in closely.
See the video here: https://www.youtube.com/watch?v=EXdBvfDYpB8
Says Strang, "'Treacle and Revenge' is about the heartbreak and pain caused by those who attempt to deceive us. We have all experienced that person who whispers sweet nothings only to find that their words meant nothing."
The new album Skin & Sorrow was fully written and recorded by Bilovecky and Strang from the third floor of their Cleveland home, on the edge of town, surrounded by ancient lakes and woods that echo the howls of coyotes. The band is rounded out live by Jason Knotek on bass and Jon Vinson on drums.
The record follows Frayle's groundbreaking debut 1692 in 2020 that further introduced the world to their penchant for creating "lullabies over chaos." Tracks feature Strang's ambient vocals laid over the voluminous instrumentals of Bilovecky (formerly of Disengage), morphing into disturbing harmonies best described as music for the night sky and are poised to dominate the doom circuit.
In addition to haunting original tracks that push heavy music into new dimensions (an inspirational mix of Sleep and Portishead, or Black Sabbath and Bjork), the duo is known for their cryptic covers including takes on Johnny Cash's "Ring Of Fire" and Bauhaus' "Bela Lugosi's Dead."
Their passioned creations have caught the attention of Revolver who named the band "one of the five artists you need to know in April" as seen HERE, who called their previously-released title track "eerie and ethereal for its first half, but slowly lets more crunchy fuzz into the fold that builds up to a detonating finish with gobs of spiritual atmosphere."
Recently, Frayle signed to The Oracle Management, now part of the roster that also includes Cradle of Filth, DevilDriver, Jinjer, Wednesday 13 and more hard rock and metal acts all represented by co-owners of The Oracle Management Dez and Anahstasia Fafara.
In one of the first orders of business, Frayle has joined on for Cradle of Filth's "Existence Is Futile" Headlining Tour, on the off dates from COF's trek with Danzig. Running through June 11, it hits 17 cities across North America – full details are below.
The track listing for Skin & Sorrow includes:
Treacle & Revenge
Bright Eyes
Skin & Sorrow
Ipecac
Stars
Roses
Sacrifant
All The Things I Was
Song For The Dead
Perfect Wound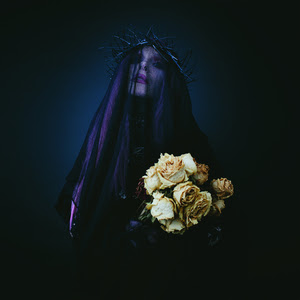 Presales for Skin & Sorrow are available now at Aqualamb Records' website with iridescent, metallic blue, metallic turquoise and metallic violet vinyl variants, CD and digital options. dditional Europe only vinyl variants will be coming via Lay Bare Recordings. Each purchase comes with an accompanying 100-page book filled with lush artwork, drawings, lyrics and additional content to get inside the mind of Frayle and the creative process.
Frayle is offering the first tastes of the new music on their tour with Cradle of Filth. Remaining dates are as follows:
5/29 Calgary, AB @ The Palace Theatre
5/30 Saskatoon, SK @ Coors Event Centre
6/1 Minneapolis, MN @ First Avenue
6/2 Joliet, IL @ The Forge
6/3 Flint, MI @ The Machine Shop
6/4 Toronto, ON @ The Opera House
6/6 Montreal, QC @ Corona Theater
6/7 Quebec City, QC @ Imperial
6/9 Albany, NY @ Empire Live
6/10 New Haven, CT @ Toad's Place
6/11 Harrisburg, PA @ HMAC
Find tickets and more info at: https://www.songkick.com/artists/9546814-frayle
Frayle has also announced they will appear at UK's Damnation Festival in May and Germany's Gloomaar Festival in November.
About Frayle
Heavy, Low, & Witchy. Frayle is a doom, sludge band from Cleveland, formed in 2017 by guitarist Sean Bilovecky (ex-DISENGAGE) and singer Gwyn Strang. They draw their inspiration from bands like Sleep, Portishead, Bjork, Kyuss, & Black Sabbath. Frayle makes music for the night sky.
Facebook: https://www.facebook.com/frayleband
Twitter: https://twitter.com/frayle_band
Instagram: https://www.instagram.com/frayle_band/
About Aqualamb Records
Inspired by the lack of album art in the age of invisible music, Brooklyn-based record label AQUALAMB publishes 100+ page printed books of artwork and writings as a tangible accompaniment to its releases. Essentially, each album's art and liner notes (traditionally confined to an LP gatefold, a CD booklet, or the screen of some music-playing device) are reconfigured into book form. Each book includes links to the music and digital content.
https://aqualamb.org
socials: @aqualambrecords