Inkcarceration Music & Tattoo Festival
Announces 2022 Onsite Entertainment & Unique Food Offerings For
July 15-17
At The Ohio State Reformatory In Mansfield, OH
Festival Headlined By Korn, Breaking Benjamin, Evanescence, Disturbed,
With Additional Performances From Papa Roach, Falling in Reverse, Lamb of God, Three Days Grace, Seether & Many More
Inkcarceration Festival Will Also Feature More Than 60 Tattoo Artists,
Self-Guided Tours Of The Prison Made Famous In The Shawshank Redemption &
"Escape From Blood Prison" Haunted House
SiriusXM's Jose "Metal Ambassador" Mangin
Will Serve As Official Host Of The Festival
Limited Passes Are Available Now At www.Inkcarceration.com
Festival producers Danny Wimmer Presents have announced additional onsite entertainment and unique food offerings for the Inkcarceration Music & Tattoo Festival, which returns for its fourth year July 15, 16 & 17 on the historic grounds of The Ohio State Reformatory in Mansfield, Ohio (made famous by the movie The Shawshank Redemption).
Inkcarceration will feature a massive lineup with some of the biggest names and brightest new stars in rock and metal, including headliners Korn, Breaking Benjamin, Evanescence, and Disturbed, as well as additional performances from Papa Roach, Falling in Reverse, Lamb of God, Three Days Grace, Seether and many more. The weekend will feature official host, SiriusXM's Jose "Metal Ambassador" Mangin who will also provide exclusive backstage
interviews, fan interaction and more.
The festival is over 95% sold out, and fans are encouraged to secure their passes now before the event is fully sold out. Limited weekend GA and single day GA passes are available at www.inkcarceration.com.
In addition to enjoying the diverse music lineup, fans will be able to book appointments with more than 60 tattoo artists, and receive complimentary tours of the famous Ohio State Reformatory prison. Onsite, there will also be gourmet food, a wide selection of beverages, camping and the return of the award-winning Haunted House attraction Escape From Blood Prison (https://www.bloodprison.com), plus fan-favorite festival activations.
New in 2022, and exclusive to festival campers, attendees that are camping will be able to enjoy live music, movie, drinks and late-night eats Thursday, July 14 through Saturday July 16 in a brand-new indoor-outdoor camp lounge and stage. The Thursday night pre-party will be held from 8:00 PM – 11:00 PM with Rock Capitol Live Band Karaoke and a special performance by Inimical Drive along with a special showing of hit movie (filmed at the venue) – The Shawshank Redemption. Friday and Saturday night campground experiences will be held from 11:30 PM – 1:45 AM with performances by Paul Bartolome, City Of The Weak, 5 Fifteen, Our Sorrows, Purge The Heretics, and Alex Embler.
The Ohio State Reformatory's historic building and grounds provide a perfect setting for Inkcarceration. The massive, awe-inspiring locale featuring beautiful Romanesque architecture is recognized as not only one of the most haunted reformatories in the country, but also as the filming location for multiple Hollywood films. The Reformatory has a long, documented history of paranormal activity and is a premier location for authentic paranormal enthusiasts.
During Inkcarceration, The Ohio State Reformatory (www.mrps.org) will be open for free self-guided tours for festival attendees from 11:00 AM – 6:00 PM daily. Visitors are invited to walk through history and witness relics from prisons gone by at the Corrections Museum for the entire state of Ohio. Visit the filming locations made famous by the most highly rated movie of all time, The Shawshank Redemption. See the "hole" where Andy spent time in solitary confinement, stand on the yellow line where the "new fish" stood, gaze through the sewage tunnel that Andy crawled through to get to freedom and peer through the hole in the wall just as Warden Norton did when he discovered it in Andy's cell. Explore the living quarters where the Warden, Assistant Warden, and Chaplain raised their families in the same facility that housed up to 3,400 of Ohio's criminals.
Inkcarceration will also feature a special engagement of Escape From Blood Prison Haunted House, the only haunted hellscape in a real prison, and a yearly Halloween event held at the former prison. Blood Prison at Inkcarceration will be open from Noon – 5:00 PM daily. Visitors to Blood Prison can tour The Warden's Widow's living quarters and the basement of this very haunted prison. Tickets to both attractions will be available for $15 (cash only).
Some of the country's elite tattoo artists will be present at Inkcarceration. Participating 2022 tattoo shops include: Bad Boy Tattoo, Bare Knuckle Tattoo, Black Label Custom Tattooing, Black Sage Studio, Bleeding Black Tattoo, Casually Tragick, Custom Tattoo Experience, DarkLite Studio, Embellish Tattoo Company, Envious Ink, Eve's Ink Tattoo & Permanent Makeup, Famous Tattoo, Four Peaks Professional Tattoo, Imperial Tattoos, Ink Slingas Tattoo, Ink Therapy, Kit Marlow Ink, Last Moon Tattoo, Major Ink Tattoo Studio, N8V INK, OM Tattoo & Massage, Paragon Tattoos, Primative Addiction, Raditattoo Me Tattoo & Repair, Silver Fox Tattoo, Tatted Rascal Tattoo Co, Tattoo Therapy, Tommy Gunns Tattoo, and Vintage Karma.
While many tattoo artists are fully booked, certain artists will be accepting walk-up appointments. You can view which artists are available for walk-up tattoo appointments, here: https://inkcarceration.com/tattooartists/
Inkcarceration will host a nightly tattoo competition where participating artists will compete in five categories for tattoos that are completed at the festival. Winners will receive first, second and third place awards. Judges include owner of Blacklist Tattoo Caleb Neff, Bassist/Reality TV personality Jennifer "JennCity" Arroyo, and actor Robert Lasardo.
Fans from around the world can also tune in to "That Space Zebra Show" hosted on DWPresents Twitch channel (https://www.twitch.tv/dwpresents) throughout the Inkcarceration weekend for an immersive backstage experience every day of the festival, featuring artist interviews and exclusive, behind-the-scenes action. The backstage experience will be hosted by cast members from "That Space Zebra Show" and "The Power Hour." Exact performances and stream times will be announced the week of the festival.
Since launching in June 2021, DWPresents Twitch channel has broadcasted over 576 hours, brought in 11.7 million live views, 5.76 million unique views, and viewers have consumed 57.9 million minutes of content.
In addition to enjoying performances from top music artists and various onsite attractions, attendees at Inkcarceration will rock their taste buds with food and beverage offerings that celebrate local and regional flavor. Curated by Southern Hospitality Concessions LLC, DWP's affiliate concessionaire, selections from the following vendors will be available: Angry Bird Grill, Avo-Rrito Street Cuisine, Bad Ass Bowls, BBQ Highlife, Buckeye Chocolate And Concessions, Burger Factory, Chicken Mac Truck, Dirty Frank's Hot Dog Palace, Funnel Cake Factory, Garlic Noodle Specialist, Hot Box Fried Chicken Sandwiches And Kabobs, Island Noodles, Jammin Concessions, Mac Attack, Mad Meltz Grilled Cheese Truck, Mt. Olympus Greek Food, Pie Baby Wood Fired Pizza, Ramiro's Cantina Truck, Rock-A-Burger Truck, Shady Grove Wraps, Smash Time Truck, Spicy Pie Pizza, Stoke Poke & Açai, Top Nacho Truck, Twisted Tots. Vegetarian, vegan and gluten-free options are indicated on the website, here: https://inkcarceration.com/foodandfun/
Additional Food, Beverage, and Experiences include:
Bud Light Seltzer – Bud Light Seltzer is proud to once again partner with Inkcarceration as they continue to provide crisp, cool refreshments and lasting memories through music. This year they are happy to be bringing back their Bud Light Seltzer cube facing the main stage where fans can stay cool and sample some of the innovative, new products! Bud Light Seltzer looks forward to seeing you all there! 21+
Bulleit – The Bulleit Woody represents the frontier of festival luxury at the top of the hill! Fans can hang out with the Bulleit ambassador team and sip on signature cocktails inspired by a family tradition that dates back to the 1800s. 21+
Monaco – Monaco has a flavor for everyone! When fans are needing a quick refresh in between sets, they are encouraged to check out their activation at the top of the hill! 21+
The Blackened Bar – The Whiskey Bar presented by BLACKENED American Whiskey is a DWP must-do! Our partners at BLACKENED hand-crafted a super-premium blend of straight bourbons & ryes, which is finished in black brand casks and sonically enhanced to extract more flavor from the casks, a process dubbed BLACK NOISE™. Created by the late, legendary Master Distiller Dave Pickerell and the almighty Metallica, BLACKENED is now overseen by Master Distiller & Blender Rob Dietrich who guards Dave's recipe and is responsible for the sourcing, blending, and finishing to bring us this award-winning, 90-proof American whiskey. Electrify your tastebuds with carefully crafted cocktails at this exclusive DWP experience. 21+
Take Me Home – The not-for-profit, volunteer-based foundation has been saving the lives of homeless animals since 2001. Stop by their booth to win cool prizes, enter raffles and help save the lives of our furry friends.
TWLOHA – We probably don't need to convince you that depression is real, that treating addiction isn't as simple as "just stopping," or that suicide has robbed too many of us of too many memories. You already know that these words are attached to names and faces, and they may even remind you of the person you see in the mirror every day. This is not an attempt to raise awareness; rather it's an invitation to move the conversation forward with more compassion and grace. We invite you to visit the TWLOHA booth on-site for information on mental health resources, opportunities to share your story, and the space to feel less alone, more hopeful, and connect to folks at the festival who believe your presence has made Inkcarceration a better place. Starting conversations about mental health can be difficult and intimidating, so throughout the weekend we are inviting you into the conversation by asking two questions: "What is one thing you wish you could say?" and "What is one thing that you need to hear?"
Fxck Cancer / Dyin 2 Live Dreams Program – Fxck Cancer's mission is to fight cancer by raising awareness and educating about early detection. Through the Dyin 2 Live Dreams wish-granting program, cancer fighters get an experience that will bring hope, courage, and inspiration. Visit them at Inkcarceration to get involved. Together We Fight. Fxck Cancer.
Parlor Root Beer – Parlor Root Beer is stoked to be joining Inkcarceration Festival! Make sure to come hang with them at their tent and drink More F*cking Root Beer while you are there!
Red Bull – Red Bull's success is attributed to YOU the fan! As one of the first global brands to partner with the music industry they help Inkcarceration level up activations to ensure good times all weekend long. Fans can grab some shade at the festival and enjoy a Watermelon marg with their best INKmates!
SoberINKmates – SoberINKmates are a group of music fans who choose to remain clean and sober at Inkcarceration. Brought in partnership with Harmonium, the simple purpose is to provide support and information to those who seek the comfort and camaraderie of other clean and sober people during the weekend. Though they consist mostly of people in recovery from alcoholism and addiction, SoberINKmates exist for anyone wishing to stay clean and sober.
Inkcarceration 2022 partners include TickPick, Anheuser-Busch, Monaco Cocktails, U.S. Army, Bulleit, Middle West Spirits, Ohio Lottery, RV Wholesalers, Vapor Station, Revolver, Inked Mag, Mortus Viventi, Hellflower Soap Co., The Pretty Cult, Rock Me Up, Silver City Mugs, Slrrrp Shots, Blackcraft, RonzWorld, Acathla Apparel, Galaxy Glass, Plank Eyewear, The Collective Coven, Queen Bee, and Parlor Root Beer.
Inkcarceration thanks our non-profit partners FXCK Cancer, Save22, Take Me Home and To Write Love on Her Arms.
Now returning for its fourth year after launching in 2018, Inkcarceration nearly tripled its inaugural year's attendance in 2019, drawing 45,000 fans from nearly all 50 states, and welcomed a record-breaking sold-out crowd of 75,000 in 2021 after changing the layout of the event to allow for greater capacity. Inkcarceration has been awarded Mansfield's Tourism Award of Excellence, and has been recognized by the United States House of Representatives, Ohio Senate, State of Ohio Representatives and Congressional Proclamation.
Festival fans can purchase single day and weekend passes for Inkcarceration 2022 at www.Inkcarceration.com, while supplies last.
Inkcarceration is co-produced by Danny Wimmer Presents, one of the largest independent producers of destination music festivals in America, and Daniel Janssen, one of the founders and General Manager of Inkcarceration Festival.
The COVID-19 policies for Inkcarceration, will not require attendees to be masked, vaccinated or tested to attend Inkcarceration. However, festival organizers do encourage fans to stay safe and will have increased sanitization stations throughout the festival. Find more details here: https://inkcarceration.com/health-and-safety/
For more information on Inkcarceration please visit:
Website: www.Inkcarceration.com
Facebook: https://www.facebook.com/Inkcarcerationfestival
Twitter: https://twitter.com/InkcarFestival
Instagram: https://www.instagram.com/inkcarcerationfestival/
Hashtag: #inkcarceration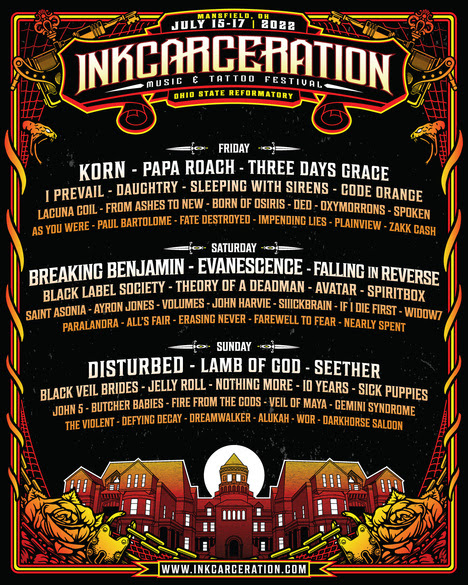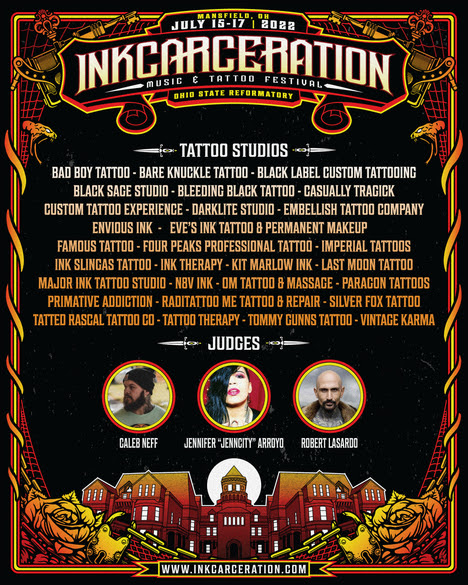 About Danny Wimmer Presents
Since 1995, music industry veteran Danny Wimmer has been producing concerts and festivals, both large and small. In 2011, he formed Danny Wimmer Presents, which now produces the largest rock and alternative festivals in the U.S. By combining A-list talent with local cuisine and culture, DWP has become recognized within the industry for delivering the highest-quality entertainment experiences to fans, artists, sponsors, partners and host cities. DWP creates memorable and all-encompassing festival experiences, leaving both consumers and partners with lasting and meaningful impressions. The confirmed 2022 festival lineup will include Aftershock, Bourbon & Beyond, GoldenSky Country Music Festival, Inkcarceration Music & Tattoo Festival, Louder Than Life and Welcome To Rockville. Previous DWP festivals include Rock On The Range, Carolina Rebellion, Chicago Open Air, Northern Invasion and more. Since 2020, DWP has been an innovator in the digital content space with over two dozen international livestreams, acclaimed social series Offstage with DWP and the DWPresents Channel on Twitch featuring That Space Zebra Show, which has garnered over 11 million worldwide views since its launch in mid-2021.
Facebook.com/Dannywimmerpresents