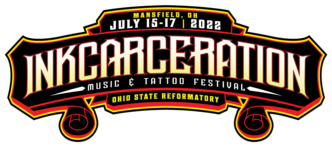 Sold-Out 2022 Inkcarceration Music & Tattoo Festival
Wraps Up A Memorable Weekend With 75,000 Music Fans
That Converged At The Ohio State Reformatory In Mansfield, OH July 15-17
Bringing In Estimated Economic Impact Of $10 Million For Region
Three-Day Destination Event Was Headlined By
KORN, Breaking Benjamin, Disturbed, Evanescence,
With Additional Performances From Papa Roach, Falling In Reverse,
Lamb Of God, Three Days Grace, Seether & Many More,
Hosted by Sirius XM's Jose "Metal Ambassador" Mangin
Special Guest Appearances And Exclusives
Included Disturbed Performing Their New Track "Hey You" Live
Inkcarceration Also Featured 60-Plus Tattoo Artists,
Tours Of The Prison Made Famous In The Shawshank Redemption &
"Escape From Blood Prison" Haunted House
Closing out its most successful year to date, the sold-out 2022 edition of the Inkcarceration Music & Tattoo Festival, co-produced by Danny Wimmer Presents, welcomed 75,000 fans for three days of performances from 60 bands on multiple stages as well as appearances by more than 60 tattoo artists.
The three-day weekend, July 15-17, was held at the historic Ohio State Reformatory in Mansfield (the site made famous in The Shawshank Redemption). In total, it's estimated that upwards of $10 million was invested back into the local economy in Richland County with more than 50% of festivalgoers hailing from outside the state of Ohio, according to Destination Mansfield President Lee Tasseff.
Attendees enjoyed a massive lineup with memorable headlining performances from KORN, Breaking Benjamin, Evanescence, and Disturbed, with additional performances from Lamb Of God, Papa Roach, Falling In Reverse, Three Days Grace, Seether, Black Label Society and many more.
The weekend also included some special unannounced moments including Disturbed performing their just-released new track "Hey You" live for one of the first times and Lacuna Coil announcing a remade 20th anniversary edition of their seminal album Comalies and premiering a new version of track "Tight Rope" during their set – see them talk about the project in an interview with That Space Zebra Show on DWPresents Twitch channel: https://www.youtube.com/watch?v=Z7Vgt1BfAtY
As well, Falling In Reverse offered a live debut of their new song "Voices In My Head" and Saint Asonia frontman Adam Gontier appeared as a guest in Breaking Benjamin's set. Plus, Zakk Wylde of Black Label Society talked about his involvement with the upcoming Pantera tribute shows for the first time during an interview with Jose Mangin and Matt Pinfield for That Space Zebra Show on DWPresents Twitch channel. Check out the interview here: https://youtu.be/xuMyV7d9-AY
Young unsigned Atlanta band Silly Goose made a surprise appearance at the festival closing out the CB Entertainment Stage on Sunday after an impromptu parking lot performance on a flatbed pickup truck that had fans clamoring for more and caught the attention of DWP's Danny Wimmer. This led to an announcement that they were being booked to perform at Louder Than Life this September in Louisville and signed to a developmental record deal on Alchemy Recordings.
The weekend was hosted by official emcee Jose "Metal Ambassador" Mangin of SiriusXM fame. Fans from around the world also tuned in to That Space Zebra Show on DWPresents Twitch channel (https://www.twitch.tv/dwpresents) throughout the Inkcarceration weekend for an immersive backstage experience every day of the festival, featuring exclusive behind-the-scenes action, and artist interviews with DWPresents hosts Jose Mangin, MTV personality Matt Pinfield and Josh Balz, as well as a special guest appearance by festival co-producer Danny Wimmer. In total, more than 100,000 fans tuned into DWP's online programming and interviews throughout the weekend.
In addition to enjoying the diverse music lineup, fans were able to book appointments with more than 60 tattoo artists and participate in nightly tattoo competitions, and received complimentary tours of the famous Ohio State Reformatory prison. There was also a wide selection of gourmet food and beverages, camping and the return of the award-winning Haunted House attraction Escape From Blood Prison, plus fan-favorite festival activations.
Said WFMD-TV, "Inkcarceration has carved out its own unique name within the festival space, with the Ohio State Reformatory grounds providing a great venue for the entertainment"
Richland Source added that, "The festival is known as one of the nation's premiere rock festivals, and one of the largest in Ohio" and Mansfield News-Journal said, "The festival has quickly become a cultural boon."
The Ohio State Reformatory's historic building and grounds provided a perfect setting for Inkcarceration and attendees were able to take part in self-guided tours. The massive, awe-inspiring locale featuring beautiful Romanesque architecture is recognized as not only one of the most haunted reformatories in the country, but also as the filming location for multiple Hollywood films. The Reformatory has a long, documented history of paranormal activity and is a premier location for authentic paranormal enthusiasts.
Inkcarceration 2022 partners included TickPick, Anheuser-Busch, Monaco Cocktails, U.S. Army, Bulleit, Middle West Spirits, Ohio Lottery, RV Wholesalers, Vapor Station, Revolver, Inked Mag, Mortus Viventi, Hellflower Soap Co., The Pretty Cult, Rock Me Up, Silver City Mugs, Slrrrp Shots, Blackcraft, RonzWorld, Acathla Apparel, Galaxy Glass, Plank Eyewear, The Collective Coven, Queen Bee, and Parlor Root Beer.
Inkcarceration is co-produced by Danny Wimmer Presents, one of the largest independent producers of destination music festivals in America, and Daniel Janssen, one of the founders and General Manager of Inkcarceration Festival.
For more information on Inkcarceration please visit:
Website: www.Inkcarceration.com
Facebook: https://www.facebook.com/Inkcarcerationfestival
Twitter: https://twitter.com/InkcarFestival
Instagram: https://www.instagram.com/inkcarcerationfestival/
Hashtag: #inkcarceration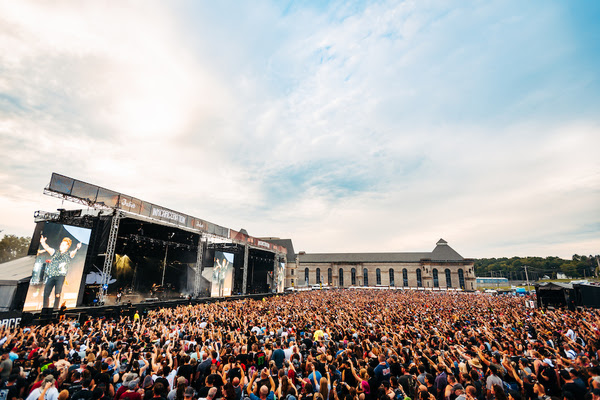 (Sold-out Inkcarceration crowd by Nathan Zucker)
(Korn by Steve Thrasher)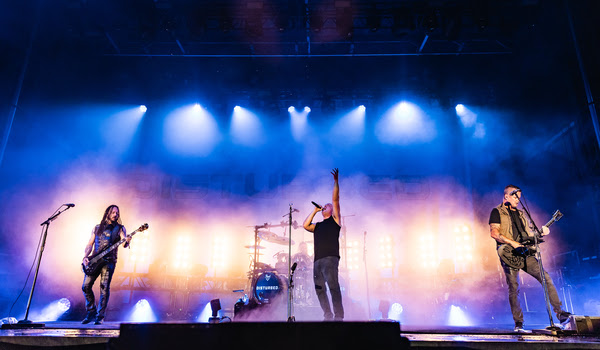 (Disturbed by Steve Thrasher)
(Breaking Benjamin by Steve Thrasher)
(Evanescence by Steve Thrasher)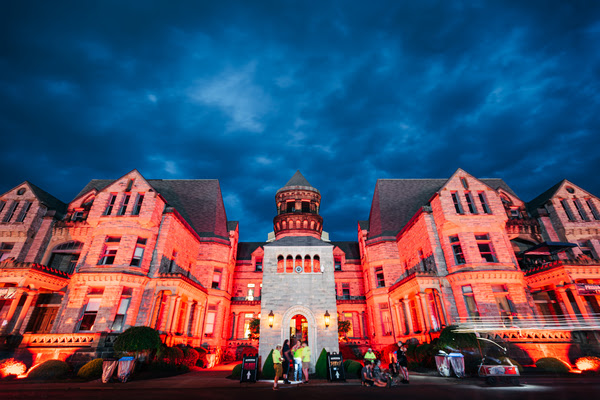 (Ohio State Reformatory by Nathan Zucker)
About Danny Wimmer Presents
Since 1995, music industry veteran Danny Wimmer has been producing concerts and festivals, both large and small. In 2011, he formed Danny Wimmer Presents, which now produces the largest rock and alternative festivals in the U.S. By combining A-list talent with local cuisine and culture, DWP has become recognized within the industry for delivering the highest-quality entertainment experiences to fans, artists, sponsors, partners and host cities. DWP creates memorable and all-encompassing festival experiences, leaving both consumers and partners with lasting and meaningful impressions. The confirmed 2022 festival lineup will include Aftershock, Bourbon & Beyond, GoldenSky Country Music Festival, Inkcarceration Music & Tattoo Festival, Louder Than Life and Welcome To Rockville. Previous DWP festivals include Rock On The Range, Carolina Rebellion, Chicago Open Air, Northern Invasion and more. Since 2020, DWP has been an innovator in the digital content space with over two dozen international livestreams, acclaimed social series Offstage with DWP and the DWPresents Channel on Twitch featuring That Space Zebra Show, which has garnered over 11 million worldwide views since its launch in mid-2021.
Facebook.com/Dannywimmerpresents