Sonic Temple Art & Music Festival Will Return
To Columbus, OH At The Historic Crew Stadium For Four Days
Memorial Day Weekend, May 25, 26, 27 & 28, 2023
One-Of-A-Kind DestinationEvent Returns To
The Home Of Rock, And Will Feature Top Music Artists,
Art Installations & More Incredible Onsite Experiences
After a three-year hiatus, premier independent U.S. music festival producer Danny Wimmer Presents is pleased to announce the highly anticipated return of Sonic Temple Art & Music Festival at the Historic Crew Stadium for four full days with a jam-packed rock music lineup over Memorial Day Weekend, May 25-28, 2023.
"Columbus, OH is such a special place to Danny Wimmer Presents," says DWP Founder Danny Wimmer. "It is where the company produced some of the biggest and most acclaimed rock festivals in the United States, so to be able to return home to Historic Crew Stadium to give fans Sonic Temple once again is going to be the highlight of 2023 for us. We can't wait to welcome everyone back!"
Fans can sign-up to get first access for Early Bird presale by visiting www.sonictemplefestival.com.
Sonic Temple Art & Music Festival is produced by Danny Wimmer Presents, one of the largest independent producers of destination music festivals in America. Additional DWP events in 2023 will include Aftershock Festival, Bourbon & Beyond, GoldenSky Country Music Festival, Inkcarceration Music & Tattoo Festival, Louder Than Life and Welcome To Rockville.
For more information on Sonic Temple Art & Music Festival, visit:
Website: https://sonictemplefestival.com
Facebook: www.facebook.com/sonictemplefestival
Twitter: www.twitter.com/sonictemplefest
Instagram: www.instagram.com/sonictemplefestival
Hashtag: #SonicTempleFestival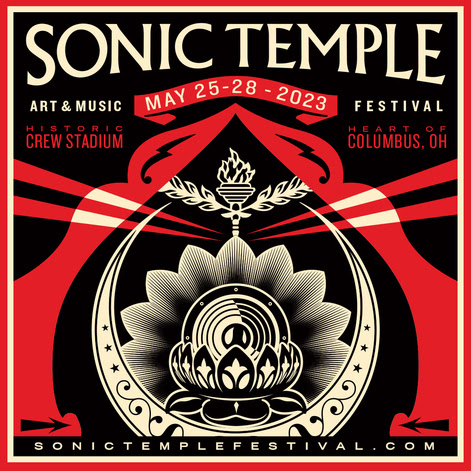 About Danny Wimmer Presents
Since 1995, music industry veteran Danny Wimmer has been producing concerts and festivals, both large and small. In 2011, he formed Danny Wimmer Presents, which now produces the largest rock and alternative festivals in the U.S. By combining A-list talent with local cuisine and culture, DWP has become recognized within the industry for delivering the highest-quality entertainment experiences to fans, artists, sponsors, partners and host cities. DWP creates memorable and all-encompassing festival experiences, leaving both consumers and partners with lasting and meaningful impressions. The confirmed 2023 festival lineup includes Aftershock, Bourbon & Beyond, GoldenSky Country Music Festival, Inkcarceration Music & Tattoo Festival, Louder Than Life, Sonic Temple Art & Music Festival and Welcome To Rockville. Previous DWP festivals include Rock On The Range, Carolina Rebellion, Chicago Open Air, Northern Invasion and more. Since 2020, DWP has been an innovator in the digital content space with over two dozen international live streams, acclaimed social series Offstage with DWP and the DWPresents Channel on Twitch featuring That Space Zebra Show. DWPresents Twitchchannel has broadcast over 576 hours, brought in over 11.7 million worldwide live views, 5.76 million unique views, and viewers have consumed 57.9 million minutes of content since its launch in mid-2021.