Eric Church, Sacramento's Own Jon Pardi,
Maren Morris, Parker McCollum & More
Lead Incredible Lineup For 2023 GoldenSky Country Music Festival,
Saturday, October 14 & Sunday, October 15 At
Discovery Park In Sacramento, CA
2nd Annual Event Is Produced By Danny Wimmer Presents
In Partnership With Visit Sacramento
And Will Feature Top Country Music Artists
Along With Craft Beer Festival, Dance Hall Saloon,
Sacramento Farm-To-Fork Food Offerings, Local Artisans & More
Passes On Sale NowAtwww.GoldenSkyFestival.com
After an incredible inaugural year that welcomed 50,000 fans, GoldenSky Country Music Festival is headed back to Sacramento in 2023 with a massive lineup led by Eric Church, Sacramento's own Jon Pardi, Maren Morris and Parker McCollum.
The second annual event, produced by Danny Wimmer Presents in partnership with Visit Sacramento, will return to its home at Discovery Park in Sacramento, CA over the weekend of October 14 & 15. The packed entertainment lineup also includes Jordan Davis, Country Music Hall of Fame member Wynonna Judd, Lainey Wilson, Elle King, Eli Young Band, Niko Moon, Ingrid Andress, Nate Smith, Adam Doleac, Frank Ray, Tenille Arts, Drake Milligan, Megan Moroney, Kidd G, Willie Jones, Lakeview and Avery Anna.
Weekend and Single Day General Admission and VIP passes for GoldenSky Country Music Festival are on sale now at www.GoldenSkyFestival.com.
"We're thrilled to partner with DWP to bring the West Coast's premier country music experience back to Sacramento," said Visit Sacramento President & CEO Mike Testa. "This year's incredible lineup, coupled with unique local activations and Sacramento as the backdrop will make for an unforgettable weekend. We can't wait to welcome music fans from across the country back to our city."
"The overwhelming response from the fans and the music industry alike leaves no doubt that last year's GoldenSky officially put Sacramento on the map as a destination for festivals," says Danny Hayes, CEO of Danny Wimmer Presents. "We are honored to be able to showcase all the amazing things the city and county have to offer and look forward to cementing GoldenSky as a must-attend country festival for the region."
The daily music lineup for GoldenSky Country Music Festival is as follows:
Saturday, October 14: Jon Pardi, Maren Morris, Wynonna Judd, Jordan Davis, Niko Moon, Ingrid Andress, Adam Doleac, Kidd G, Frank Ray, Lakeview
Sunday, October 15: Eric Church, Parker McCollum, Lainey Wilson, Elle King, Eli Young Band, Nate Smith, Tenille Arts, Megan Moroney, Drake Milligan, Willie Jones, Avery Anna
In addition to nearly two dozen music artists over two days, GoldenSky Country Music Festival will also feature an array of on-site experiences, including:
GoldenSky Beer Festival: The "festival within the festival" will showcase the best local, regional and national tastes with over 150 different selections of beer, hard seltzer and ciders each day. Open daily from 11:45 AM – 2:45 PM to patrons 21+. The GoldenSky Beer Festival is complimentary with all first 48-hour purchases, while supplies last. Starting January 20, GoldenSky Beer Festival passes can be added to festival pass purchases for as low as $15.00 + fees.
The Farmhouse: The Farmhouse, presented by California Bountiful promises to deliver a local food experience that will leave taste buds craving more! Attendees can take a load off and pick their pleasure amongst some of Sacramento's finest dining establishments, and taste what makes Sacramento the Farm-To-Fork Capital of America.
El Dorado Market: Festival attendees can visit the El Dorado Market to shop the best of the Central Valley. Featuring unique finds rooted in Sacramento businesses, it offers the chance to shop small and support local retailers.
River City Saloon & Dance Hall: Music fans can boot-scoot into the River City Saloon & Dance Hall for a little dancin', a little drinkin' and a whole lotta fun! Daily activities include line dancing, partner two-stepping and lessons. There will also be a house DJ to freestyle with when the sun goes down, as well as Billy, the house bull that's sure to be a buckin' and broncin' all weekend long.
Wines Of Sacramento: Sacramento is home to some of the best wineries in the world. With pours from the best in the heart of Wine Country, GoldenSky fans get a taste of what makes California wine a step above the rest.
Loud Lounge: Attendees can go beyond the music and experience the cannabis community in the festival's very own Loud Lounge. Believing in the power of cannabis to enhance the communal and artistic experience, this is a gathering place for friends to network and celebrate. The lounge will offer everything from live music to live art and live performers all weekend long while educating patrons about cannabis culture. Must be 21+ to enter.
Sidelines Sports Bar: GoldenSky guests can watch their favorite NCAA, NFL and MLB playoff games at Sidelines Sports Bar, featuring the top can't miss games of the weekend. Fans can grab a drink and pony up to the bar to stay up-to-date on all the action.
In addition, GoldenSky has partnered up with Goldfield Trading Post in Midtown Sacramento to find the best local country act to play the big stage at GoldenSky 2023. More details on how to apply will be announced in the Spring, with showcases live from Goldfield Trading Post happening this Summer.
For a full description of GoldenSky Country Music Festival weekend and single day VIP and GA passes and pricing, visit www.GoldenSkyFestival.com. Prices start as low as $69.99 + fees. In January and February, passes can be purchased starting as low as $10.00 down, with layaway payments amortized evenly through August. Hotel packages are also available.
GoldenSky Country Music Festival debuted in 2022 with 50,000 people in attendance for two full days of music, craft beer, farm-to-fork food and more. GoldenSky 2022 featured a spectacular lineup of top country music artists performing on three stages, including headliners Tim McGraw (Saturday) and Sam Hunt (Sunday) as well as Brothers Osborne, Midland, Carly Pearce, Parmalee, Michael Ray, Diamond Rio, Brian Kelley, Lindsay Ell and many more. The festival received rave reviews from patrons and the media and had a substantial economic impact on the Sacramento community.
ABC10 Sacramento said of GoldenSky 2022, "GoldenSky music festival helps boost Sacramento's economy…enthusiastic country fans from all over the country made their way to Discovery Park for the GoldenSky country music festival." Elsewhere, Sacramento Magazine noted, "Country music fans get their due at the inaugural GoldenSky, a two-day music fest in Discovery Park boasting some of country's biggest names…" And Melodic Magazine raved, "From the last warm rays of summer during the days to the crisp fall evenings, the energy that radiated throughout the 2-day festival was electric. Attendees truly experienced a weekend to remember…Sacramento has definitely struck gold with this new tradition!"
GoldenSky 2023 is proud to host premier partners Jack Daniel's, California Bountiful and Visit Sacramento, with more partners and experiences to be announced closer to the show. Greg Luehrs, Director of Partnerships for Jack Daniel's, Brown-Forman Corporation said, "It's been said that 'somewhere between Nashville, the home of country music, and Memphis, the home of Rock 'n' Roll, lies Lynchburg, Tennessee, the home of Jack Daniel's whiskey – the undisputed spirit of both musical traditions.' To keep those deep connections alive and to continue supporting new generations of musical artists, Jack Daniel's is proud to partner with GoldenSky, and year two will be bigger and better!"
For more information on GoldenSky Country Music Festival, please visit:
Website: www.GoldenSkyFestival.com
Facebook: www.facebook.com/goldenskyfest/
Twitter: www.twitter.com/goldenskyfest
Instagram: www.instagram.com/goldenskyfest/
Hashtag: #GoldenSkyFest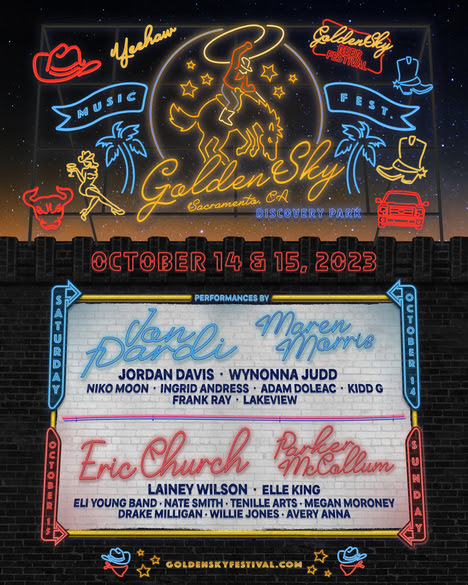 About Danny Wimmer Presents: Since 1995, music industry veteran Danny Wimmer has been producing concerts and festivals, both large and small. In 2011, he formed Danny Wimmer Presents, which now produces the largest rock and alternative festivals in the U.S. By combining A-list talent with local cuisine and culture, DWP has become recognized within the industry for delivering the highest-quality entertainment experiences to fans, artists, sponsors, partners and host cities. DWP creates memorable and all-encompassing festival experiences, leaving both consumers and partners with lasting and meaningful impressions. The 2023 festival lineup will include Aftershock, Bourbon & Beyond, GoldenSky, Inkcarceration, Louder Than Life, Sonic Temple Art & Music Festival and Welcome To Rockville. Previous DWP festivals include Rock On The Range, Carolina Rebellion, Chicago Open Air, Northern Invasion and more. Since 2020, DWP has been an innovator in the digital content space with over two dozen international livestreams, acclaimed social series Offstage with DWP and the DWPresents Channel on Twitch featuring That Space Zebra Show, which has garnered over 20 million worldwide views since its launch in mid-2021.
Twitter.com/DannyWimmerPres
Facebook.com/Dannywimmerpresents
Instagram.com/Dannywimmerpresents