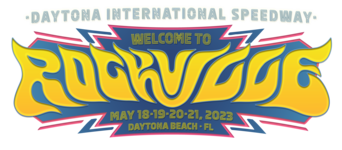 Welcome To Rockville
Music Set Times, On-Site Experiences,
Food & Beverage Offerings Announced For
May 18-21 Festival At The World Center Of Rock
Daytona International Speedway In Daytona Beach, FL
Tool, Slipknot, Avenged Sevenfold, Pantera,
Deftones, Rob Zombie, Godsmack, The Cult, Evanescence, Incubus & More
Lead Lineup For The Kick-Off Of
Danny Wimmer Presents 2023 Festival Season…The Biggest Year In Rock!
Limited Passes Still Available At
Independent festival producer Danny Wimmer Presents has announced the music set times, their 2023 mobile app, additional on-site experiences and unique food and beverage offerings for the 12th year of Welcome To Rockville, held May 18-21 at "The World Center of Rock," Daytona International Speedway in Daytona Beach, Florida.
Welcome To Rockville kicks off Danny Wimmer Presents' 2023 festival season–The Biggest Year In Rock!–that offers seven multi-day destination events with some of the most prominent and exciting names in rock and metal taking the stage. Welcome To Rockville is DWP's longest-running annual festival and brought together 150,000 fans in 2022.
The 2023 music lineup features headliners Tool, Slipknot, Avenged Sevenfold and Pantera plus Deftones, Rob Zombie, Godsmack, Evanescence, Incubus, The Cult, Alice Cooper, The Mars Volta, Puscifer, I Prevail, Chevelle, Coheed & Cambria, Hardy, Trivium and many more.
The Cult was recently added to the lineup and fans can not only expect to hear their stellar musicianship but tracks off of their latest album, Under The Midnight Sun. Attila, Bones UK, Holy Wars and Silly Goose were also recently added to the lineup.
Overall, Welcome To Rockville features nearly 100 music performances over four days on four stages, amusement rides, a giant water slide, art installations, partner experiences, award-winning spirits, and delicious food and beverage options. Jose "Metal Ambassador" Mangin is the official Welcome To Rockville host, who will be participating in on-stage appearances and fan meet and greets.
A very limited number of Welcome To Rockville passes are still available for purchase at https://welcometorockville.com.
Attendees can create a personalized festival schedule with alerts and find all Welcome To Rockville details via the festival's official mobileapp presented by Lyte, which is available for download now at: https://welcometorockville.com/mobileapp/
The Welcome To Rockville music set times are as follows (subject to change) and can also be found at https://welcometorockville.com/schedules.
Thursday, May 18
Space Zebra Stage
Octane Stage
10:15 PM
Slipknot
9:10 PM
Rob Zombie
8:05 PM
The Cult
7:10 PM
Puscifer
6:25 PM
Bullet For My Valentine
5:40 PM
Trivium
4:55 PM
Avatar
4:15 PM
Black Stone Cherry
3:40 PM
Brutus
3:05 PM
Austin Meade
2:30 PM
Bloodywood
1:55 PM
Rain City Drive
1:20 PM
Silly Goose
Rockvillian Stage
DWPresents Stage
8:00 PM
Suicidal Tendencies
7:10 PM
Converge
6:30 PM
Band-Maid
5:35 PM
Rivals
5:00 PM
Stray From The Path
4:15 PM
Malevolence
3:40 PM
Vended
3:05 PM
Budderside
2:30 PM
Wargasm
1:55 PM
Conquer Divide
1:25 PM
Widow7
12:55 PM
Nevertel
Friday, May 19
Space Zebra Stage
Octane Stage
10:15 PM
Avenged Sevenfold
9:10 PM
Evanescence
8:15 PM
Hardy
7:20 PM
I Prevail
6:30 PM
Motionless In White
5:45 PM
Sleeping With Sirens
5:10 PM
Badflower
4:30 PM
Ayron Jones
3:55 PM
The Warning
3:20 PM
Des Rocs
2:45 PM
Tigercub
2:10 PM
Tuk Smith & The Restless Hearts
Rockvillian Stage
DWPresents Stage
8:10 PM
Memphis May Fire
7:20 PM
From Ashes To New
6:40 PM
Bones UK
5:50 PM
Varials
5:15 PM
Born Of Osiris
4:30 PM
Tallah
3:50 PM
Mothica
3:15 PM
Slay Squad
2:45 PM
Ryan Oakes
2:10 PM
Bastradane
1:40 PM
Until I Die
1:10 PM
As You Were
Saturday, May 20
Space Zebra Stage
Octane Stage
10:15 PM
Pantera
9:00 PM
Godsmack
7:55 PM
Alice Cooper
7:00 PM
Chevelle
6:15 PM
Jason Bonham
5:30 PM
Alter Bridge
4:50 PM
Rival Sons
4:10 PM
Pop Evil
3:35 PM
The Bronx
3:00 PM
Zero 9:36
2:25 PM
Dead Poet Society
1:50 PM
The Violent
Rockvillian Stage
DWPresents Stage
7:55 PM
Knocked Loose
7:05 PM
Yelawolf Presents: Sometimes Y
6:25 PM
Suicide Silence
5:45 PM
Sepultura
5:00 PM
Poorstacy
4:20 PM
Maylene & The Sons Of Disaster
3:35 PM
Ho99o9
3:00 PM
Kreator
2:25 PM
Dayseeker
1:50 PM
Starcrawler
1:20 PM
Hammerhedd
12:50 PM
Ottto
Sunday, May 21
Space Zebra Stage
Octane Stage
9:50 PM
Tool
8:35 PM
Deftones
7:20 PM
Incubus
6:25 PM
Coheed & Cambria
5:35 PM
The Mars Volta
4:55 PM
Pennywise
4:15 PM
Grandson
3:40 PM
Senses Fail
3:05 PM
Anti-Flag
2:30 PM
Nova Twins
1:55 PM
Holy Wars
1:20 PM
Point North
Rockvillian Stage
DWPresents Stage
7:20 PM
Ghostemane
6:35 PM
Deafheaven
5:45 PM
Sueco
4:55 PM
Attila
4:20 PM
Filter
3:40 PM
nothing,nowhere.
3:05 PM
Angel Du$t
2:30 PM
Capital Theatre
2:00 PM
Bob Vylan
1:25 PM
Uncured
12:55 PM
Reddstar
12:30 PM
The American Love Story
Campground Pre-Party *
Wednesday, May 17
DWPresents Stage
10:15 PM
Hatebreed
9:25 PM
The Word Alive
8:35 PM
Catch Your Breath
7:45 PM
Conquer Divide
7:00 PM
Feast For The Crows
*Access for campers only
Festival doors open at Noon each day.
Attendees at Welcome To Rockville will have the opportunity enjoy a wide variety of on-site experiences in addition to music performances, which include:
● The Music Experience powered by American Musical Supply – a must-visit for music lovers and musicians with gear to play, giveaways, special deals, selfie stations, guitar shred contests and the fastest feet drum contest
● Hard Rock Hotel Daytona Beach – Hard Rock's mission is about creating authentic experiences and their partnership with Welcome To Rockville brings that mission to life. Panoramic ocean views, legendary amenities, and modern luxury await at Hard Rock Hotel Daytona Beach.
● Road Hounds – supporting emerging talent in the rock music industry by creating a decentralised community of NFT, Metaverse and music fans
● Take Me Home not for profit volunteer animal foundation
● Rock N' Ride carnival rides –WhipSplash Water Slide, Roundabout Ferris Wheel, The Round Up and The Swinger
On-site beverage experiences and lounges include: Bud Light Backyard with a shaded main stage viewing area, Blue Chair Bay Rum Presents Heavy Tiki Bar, BeatBox Beverages (non-carbonated, gluten-free, and resealable), Caduceus Wine Garden, featuring Caduceus Cellars and Merkin Vineyards, Craft Beer Bar, Jack Daniel's (offering cocktails in a shaded space) and The Blackened Whiskey Bar (featuring the super premium blend of straight bourbons and ryes created by the late, legendary Master Distiller Dave Pickerell and the almighty Metallica).
Visit https://welcometorockville.com/experiences for a complete description of festival experiences.
Welcome To Rockville campers will have the ultimate experience by spending five days on the festival field in the middle of all the action with the quickest access to all the stages. The 2023 campground theme is "Rockvillian Campground Invasion." Campers are encouraged to decorate their campsite with glow-in-the-dark stars, planets, and alien props, while dressing as astronauts, aliens, or space-rock legends like Ziggy Stardust to win prizes. Campers can also enjoy the exclusive Wednesday Night Pre-Party headlined by Hatebreed, as well as Bloody Mary brunches with iHeart radio, silent discos and more at The Pit Stop and Boardwalk Club in the campground, plus opportunities to get first looks at activations and festival merch.
Welcome To Rockville will feature a wide variety of food and beverage options curated by Southern Hospitality Concessions LLC, DWP's affiliate concessionaire. Participating vendors include: BBQ Highlife, Big Wil and The Warden, Bru Brothers Coffee, Bulgogi Korean BBQ and Dumplings, Burger Boyz, Capuano's Wood Fired Pizza, Champs Corn Dogs, Chicken Mac Truck, Chinchilla Truck, Churros N Cream, Crossroads Café, Dos Bros Food, El Cubanito Truck, Emangeo's Brick Oven Pizza, Event Specialists, Fistfull of Tacos, Funky Cow Creamery, Guanabana Ice Pops and Smoothies, Happy Belly Bistro, Island Noodles, Jammin Concessions, Japanese Flair, Loving Cup, Mama's Food Truck, Margus Empanadas, Mistfit Chef, Pie Baby, Romega Taqueria, Seafood at The Shack, Sir Cooks A Lot Truck, Smokestack BBQ, Smokin R's BBQ, Spicy Pie, Stoked Poke, Twisted Okie BBQ, Twisted Tots, Vegan Demon and What's The Catch Seafood.
Welcome To Rockville is produced by Danny Wimmer Presents, one of the largest independent producers of destination music festivals in America.
Welcome To Rockville is proud to thank its new and returning partners: Anheuser-Busch, BeatBox Beverages, Blackcraft Cult, Blue Chair Bay Rum, BRŸT Beverage, Capital Vacations, Checkers & Rally's, Demons Behind Me, Distortion – Road Hounds, DripBar, Fxck Cancer, Hard Rock Hotel Daytona Beach, Jack Daniel's Tennessee Whiskey, LYTE, Mortus Viventi, Parlor Root Beer, Plank Eyewear, Red Bull, Revolver Magazine, Take Me Home, The Music Experience, The Taylor Foundation, To Write Love on Her Arms and US Army.
For more information on #WelcomeToRockville, visit:
Website: https://welcometorockville.com
Facebook: https://www.facebook.com/welcometorockville
Twitter: https://twitter.com/rockvillefest
Instagram: https://www.instagram.com/welcometorockville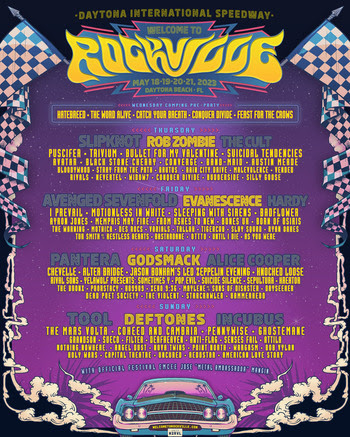 About Danny Wimmer Presents: Since 1995, music industry veteran Danny Wimmer has been producing concerts and festivals, both large and small. In 2011, he formed Danny Wimmer Presents, which now produces the largest rock and alternative festivals in the U.S. By combining A-list talent with local cuisine and culture, DWP has become recognized within the industry for delivering the highest-quality entertainment experiences to fans, artists, sponsors, partners and host cities. DWP creates memorable and all-encompassing festival experiences, leaving both consumers and partners with lasting and meaningful impressions. The 2023 festival lineup will include Aftershock, Bourbon & Beyond, GoldenSky, Inkcarceration, Louder Than Life, Sonic Temple Art & Music Festival and Welcome To Rockville. Previous DWP festivals include Rock On The Range, Carolina Rebellion, Chicago Open Air, Northern Invasion and more. Since 2020, DWP has been an innovator in the digital content space with over two dozen international livestreams, acclaimed social series Offstage with DWP and the DWPresents Channel on Twitch, which has garnered over 25 million worldwide views since its launch in mid-2021. DWP also produces The Power Hour, a weekly show dedicated to the world of rock, on AXS TV.
Twitter.com/DannyWimmerPres
Facebook.com/Dannywimmerpresents
Instagram.com/Dannywimmerpresents
About Daytona International Speedway: Daytona International Speedway is a state-of-the-art motorsports facility and was awarded the SportsBusiness Journal's prestigious Sports Business Award for Sports Facility of the Year in 2016. Daytona International Speedway is the home of The Great American Race – the DAYTONA 500. Though the season-opening NASCAR Cup Series event garners most of the attention – as well as the largest audience in motorsports – the approximately 500-acre motorsports complex, also known as the World Center of Racing, boasts the most diverse schedule of racing on the globe. Some of the exciting racing events include January's Rolex 24 At DAYTONA and Roar Before The Rolex 24, February's DAYTONA 500 and Speedweeks Presented by AdventHealth, March's Bike Week At DAYTONA Presented By Monster Energy, featuring DAYTONA Supercross and the DAYTONA 200, the August Coke Zero Sugar 400 weekend, and much more. The Speedway grounds are also used extensively for other events that include concerts (Welcome to Rockville, Heroes Honor Festival, etc.), sporting events (DAYTONA Soccer Fest, CLASH DAYTONA, etc.) civic and social gatherings, car shows, photo shoots, production vehicle testing and police motorcycle training.