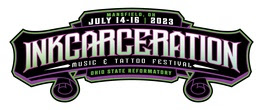 Inkcarceration Music & Tattoo Festival
3rd Consecutive Sold-Out Year Brings 75,000 Music Fans
to Historic Ohio State Reformatory In Mansfield, OH
Continuing Danny Wimmer Presents' 'Biggest Year In Rock' 2023 Season
Highlights Included Headlining Sets From Slipknot, Pantera & Limp Bizkit
And Incredible Performances From Megadeth, Lamb Of God, Volbeat, Bush,
In This Moment, Highly Suspect, Flyleaf With Lacey Sturm,
Motionless In White, Coal Chamber & Many More
Offstage Festival Attractions Included
A Tattoo Convention & Daily Contests With More Than 65 Artists,
A Blood Prison Haunted House
And Free Tours Of The Prison Made Famous In The Shawshank Redemption
2024 Festival Dates Will Be Announced This Summer
Inkcarceration Music & Tattoo Festival 2023 has come to a roaring and triumphant end, bringing together 75,000 music fans for three action-packed days of music, body art and horror-themed attractions at the site of the historic Ohio State Reformatory (made famous by the movie The Shawshank Redemption) in Mansfield, Ohio. This marks the third consecutive sold-out year for the popular destination event.
The fifth edition of Inkcarceration was held July 14-16, drawing fans from every state and 15 countries to continue the "Biggest Year In Rock" festival season from co-producer Danny Wimmer Presents. Memorable highlights included exhilarating headlining performances from some of the biggest bands in rock and metal including Slipknot, the new Pantera lineup (original members Phil Anselmo and Rex Brown were joined by guitarist Zakk Wylde and drummer Charlie Benante in celebration of original members Dimebag Darrell and Vinnie Paul) and Limp Bizkit.
Pantera's set featured special guest backup vocalists on the classic track "Walk," including Brandon Mendenhall of the emerging rock group The Mendenhall Experiment and feature documentary film "Mind Over Matter," whose band played the campground stage earlier in the day.
Inkcarceration also boasted the second live performance from the reunited Coal Chamber since 2015. Additionally, the fest inspired Chelsea Grin's Tom Barber to propose to his now-fiancée onstage during the band's performance. Up-and-coming rock group Silly Goose also made their return to the fest, after winning over fans and team at Danny Wimmer Presents with their impromptu, memorable parking lot performance last year. In addition to a formal time slot on the campground stage lineup for 2023, the band also reprised their DIY surprise set on their small flatbed truck outside the festival gates.
In total, Inkcarceration boasted 70 music performances on three stages, over three days, bringing summer into full stride for legions of rock fans. Inkcarceration also offered fans the chance to get inked at the on-site tattoo convention, presented by Inked Magazine. Ticketholders were able to book daily appointments with over 65 tattoo artists onsite, and enjoyed nightly tattoo competitions, which were hosted by musician and Big Brother alum Jenncity. A panel of judges included tattoo artists Caleb Neff, Brian Adamson and Mat Helton. The entire festival weekend was also hosted by Warden Jose Mangin, SiriusXM's official "Metal Ambassador."
Inkcarceration prides itself on giving back. In addition to providing an avenue for festival charitable partners Take Me Home, F Cancer, Save22.vet, and To Write Love On Her Arms to raise funds onsite, one lucky fan was granted the uniquely rare opportunity for a "Haunted Hang" with Corey Taylor. The Slipknot singer provided a private tour of the historic Ohio State Reformatory and more, as part of efforts by the nonprofit he founded, The Taylor Foundation. Inkcarceration also partnered up with Living The Dream Foundation, which provided a dream festival weekend for a young fan battling a life-threatening illness. The dream recipient was given the chance to experience artist meet and greets, enjoy side stage viewing access and front row placement for performances all weekend long.
It's estimated that upwards of $10 million was invested back into the local economy of Ohio's Richland County, with more than 40% of festivalgoers hailing from outside the state of Ohio, according to Destination Mansfield President Lee Tasseff.
An announcement regarding Inkcarceration's 2024 festival dates will be forthcoming this summer, along with early bird sales, offering fans a variety of affordable payment plans.
Below is just some of the media praise for Inkcarceration 2023:
"One of the only musical festivals that blends heavy metal and rock with tattoos." —Mansfield News Journal
"The annual festival has become one of the most popular in the nation for its music variety. But tattoos have always been a theme, attracting tattoo artists far and wide." —Richland Source
"A hard rock-fueled three-day weekend of food, fun, and art." —WMFD-TV
"Inkcarcertation Festival has become a coveted honor for a growing number of American rock and metal bands" —Metal Injection
See some of the biggest moments with these video clips on Inkcarceration's official Instagram page:
Drone footage of Pantera's headlining set:
Drone footage of Limp Bizkit's headlining set:
Slipknot's Corey Taylor getting a look inside the prison:
P.O.D. chatting about their tattoos inside the Reformatory:
Chelsea Grin's Tom Barber proposing on stage:
A look inside the Blood Prison haunted attraction:
Inkcarceration continued Danny Wimmer Presents' packed 2023 festival season, which began with Welcome To Rockville and Sonic Temple Art & Music Festival in May. There are four additional multi-day destination events this year, including Bourbon & Beyond (September 14-17 in Louisville, KY), Louder Than Life (September 21-24 in Louisville, KY), Aftershock (October 5-8 in Sacramento, CA) and GoldenSky (October 14-15 in Sacramento, CA).
Inkcarceration is co-produced by Danny Wimmer Presents, one of the largest independent producers of destination music festivals in America, and Reinkcarceration LLC, a partnership that formed with the original founders of INK in 2021.
Inkcarceration's new and returning partners in 2023 included Acathla Clothing, Anheuser-Busch, BeatBox Beverages, Blackcraft Cult, Bulleit Bourbon, Collective Coven, Dimebag Hardware, Fxck Cancer, Hellflower Soap Company, Middle West Spirits, Monaco Cocktails, Mortus Viventi, Nowhere Fast, Ohio Lottery, Parlor Root Beer, Plank Eyewear, Queen Bee, Red Bull, Save22, Take Me Home, The Pretty Cult, The Taylor Foundation, To Write Love On Her Arms, U.S. Army, and U.S. Marines.
For more information on Inkcarceration please visit:
Website: www.Inkcarceration.com
Facebook: https://www.facebook.com/Inkcarcerationfestival
Twitter: https://twitter.com/InkcarFestival
Instagram: https://www.instagram.com/inkcarcerationfestival/
Hashtag: #inkcarceration, #ink23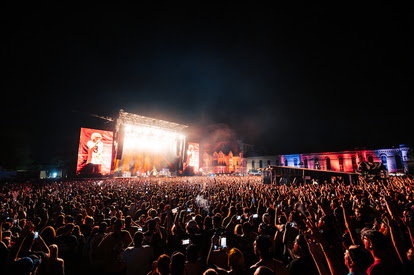 Inkcarceration Music & Tattoo Festival Crowd by Nathan Zucker
| | |
| --- | --- |
| Slipknot by Steve Thrasher | Pantera by Steve Thrasher |
| | |
| --- | --- |
| Limp Bizkit by Steve Thrasher | Tattoo Session by Lexie Alley |
| | |
| --- | --- |
| Lamb of God by Steve Thrasher | Blood Prison by Nathan Zucker |
| | |
| --- | --- |
| Crowd by Nathan Zucker | Ohio State Reformatory by Lexie Alley |
About Danny Wimmer Presents: Since 1995, music industry veteran Danny Wimmer has been producing concerts and festivals, both large and small. In 2011, he formed Danny Wimmer Presents, which now produces the largest rock and alternative festivals in the U.S. By combining A-list talent with local cuisine and culture, DWP has become recognized within the industry for delivering the highest-quality entertainment experiences to fans, artists, sponsors, partners and host cities. DWP creates memorable and all-encompassing festival experiences, leaving both consumers and partners with lasting and meaningful impressions. The 2023 festival lineup will include Aftershock, Bourbon & Beyond, GoldenSky, Inkcarceration, Louder Than Life, Sonic Temple Art & Music Festival and Welcome To Rockville. Previous DWP festivals include Rock On The Range, Carolina Rebellion, Chicago Open Air, Northern Invasion and more. Since 2020, DWP has been an innovator in the digital content space with over two dozen international livestreams, acclaimed social series Offstage with DWP and the DWPresents Channel on Twitch, which has garnered over 25 million worldwide views since its launch in mid-2021. DWP also produces The Power Hour, a weekly show dedicated to the world of rock, on AXS TV.
Twitter.com/DannyWimmerPres
Facebook.com/Dannywimmerpresents
Instagram.com/Dannywimmerpresents