Over 170,000 Fans Attended Louder Than Life 2022,
Setting A Festival Attendance Record And Officially
Becoming America's Biggest Rock Festival
Four Days Of Nonstop Music From 100+ Bands
Plus A Range Of Local Food, Spirits & More Celebrating Louisville Culture
September 22-25 At Highland Festival Grounds At Kentucky Expo Center
Headlined By Red Hot Chili Peppers, Nine Inch Nails, Slipknot, KISS,
And Featured Shinedown, Rob Zombie, Bring Me The Horizon, Alice In Chains,
Alice Cooper, Incubus, Evanescence, Lamb Of God, Tenacious D & More
Celebrity Guest Bartenders Popped Up All Weekend At
Brand-New Headbangers Hall Attraction, Also Featuring Eats From Chef Chris Santos
2023 Dates Announced For September 21-24
Weekend GA and VIP Passes, Plus Camping On Sale Now For $10 Down At
www.LouderThanLifeFestival.com
A massive gathering of over 170,000 music fans, more than 100 music acts and dozens of Louisville's finest spirits came together this past weekend, helping Louder Than Life retain its reputation as the World's Largest Whiskey & Music Festival and America's Biggest Rock Festival.
Held September 22-25, 2022 at Highland Festival Grounds at Kentucky Exposition Center,the memorable four-day event from producer Danny Wimmer Presents pulled in people from all over the country. Along with the record-breaking Bourbon & Beyond festival from DWP the weekend prior (which brought in 140,000 people over four days), 70% of attendees came from out-of-state and contributed more than $33 million in economic impact.
DWP also released figures for the company's total investment in the community through producing the two back-to-back events, including $4.55 million spent on local restaurants, food and beverage supplies, $2.75 million on local vendors and $2.65 million in wages to local bartenders, stagehands and security.
Louder Than Life has now announced 2023 dates, to be held over the weekend of September 21-24 at its home at the Highland Festival Grounds at Kentucky Exposition Center. Weekend GA and VIP passes, along with camping, are on sale now for $10 down at www.LouderThanLifeFestival.com.
Louder Than Life 2022 offered memorable music performances that included an incendiary headlining set from Nine Inch Nails to kick off the festivities on Thursday night. The performance was the same date the industrial metal icons celebrated the 30th anniversary of their landmark EP Broken, and they delivered several tracks from that record such as "Wish," "Gave Up" and their cover of Pigface's "Suck," among other highlights in a career-spanning set list.
On Friday, headliners Slipknot unleashed a stacked performance for fans who had come dressed in masks for the occasion. The band delivered "The Dying Song (Time To Sing)" from their anticipated new album The End, So Far, which comes out September 30. Other highlights included fan favorites "Wait And Bleed" and "Duality." Earlier in the day, Vended – featuring Simon Crahan (son of Slipknot's Clown) and Griffin Taylor (Corey Taylor's son) – also gave their all, getting the crowd riled up in anticipation.
Saturday's closing set came from rock legends KISS who offered 17 giant hits from their five-decades long career, including "Shout It Out Loud," "Rock And Roll All Nite" and "Calling Dr. Love." Appearing as part of their End Of The Road World Tour, the Louder Than Life set marked one of the final times those in Louisville will be able to see the shock rockers on a local stage.
For the finale, Red Hot Chili Peppers closed out Sunday night in one of their first shows back with all four original members in tow. The packed set list pulled from all eras of the band, including early hits like "Give It Away" and "Suck My Kiss" as well as more modern hits such as "Here Ever After," from their latest release, this year's Unlimited Love.
Other must-see moments included Evanescence's Amy Lee in a surprise guest spot during Tenacious D's performance for songs "Kyle Quit The Band" and "Lee" plus, later, Evanescence offering a livestreamed set exclusively for the DWPresents On Twitch channel; Alice In Chains delivering a number of hits from their 1992 album Dirt ahead of its 30th anniversary next week (plus a separate set from Jerry Cantrell); Neil Fallon of Clutch appearing during Mastodon's set; Blake Ellison of Devour The Day guesting during Pop Evil's appearance; and Body Count covering "Ace Of Spades," dedicating the song to the late singer Lemmy Kilmister. Plus, Shinedown, Rob Zombie, Bring Me The Horizon, Alice Cooper, Incubus, Evanescence, Lamb Of God, Yungblud, Chevelle, Papa Roach, Halestorm, In This Moment, The Pretty Reckless and many more offered unforgettable performances.
In total, there were 100-plus artists on 5 stages plus an additional stage featuring commentary and artist interviews from That Space Zebra Show, hosted on DWPresents Twitch channel (https://www.twitch.tv/dwpresents) throughout the Louder Than Life weekend. The immersive backstage experience also offered streaming opportunities for each of the DWPresents Stage performances.
Since launching in June 2021, DWPresents Twitch channel has broadcasted over 958 hours, brought in 17.3 million live views, 7.21 million unique views, and viewers have consumed 75.7 million minutes of content.
Also new for Louder Than Life in 2022 was the Headbangers Hall, featuring surprise celebrity bartenders Jelly Roll, Theory Of A Deadman, Spiritbox, Crown The Empire, members of Giovannie & The Hired Guns, Royal & The Serpent, GWAR, Papa Roach and Lamb Of God, special appearances by Jose "Metal Ambassador" Mangin of SiriusXM, bourbon expert Fred Minnick, Dimebag Rita and treats and eats by Chef Chris Santos, as well as whiskeys by Slipknot, Metallica, ZZ Top, GWAR and Beartooth, and Iron Maiden craft brews.
Attendees at Louder Than Life also enjoyed some of the best food and drinks that the Louisville area has to offer, as well as various sponsor activations and experiences.
Here's what media has had to say about Louder Than Life this year:
"It was a stunningly beautiful day for heavy metal … Louder Than Life Saturday lives up to the name, bringing rocking energy to Louisville" — Courier Journal
"The massive 160,000-person attendance witnessed at the previous festival in 2021 was one for the ages, and with 5 stages lined up to feature dozens upon dozens of prominent bands from a wide range of styles, expectations for a similar invasion to rock Louisville, KY this year [were] high." —Metal Injection
"Louder Than Life expectations go up to 11" — WAVE 3 News
"The festival has been growing over the years since it began in 2014. Organizers are expecting a massive crowd this year." — WDRB NEWS
Louder Than Life would like to thank its 2022 partners: Angel's Envy, Bird Dog, Budweiser, Boone's Bourbon, Bulleit, Cutwater Spirits, Ehrler's Ice Cream, ESP, Fearless Records, George Dickel, Hellflower Soap Co., Jack Daniel's, Jefferson's, Jim Beam, Kentucky Derby Museum, Kentucky Tourism, Kentucky Venues, Kroger, Louisville Tourism, Milagro Tequila, Mortus Viventi, Nomadic Movement, Parlor Root Beer, Pegasus Distilled, Punk Rock & Paintbrushes, Rabbit Hole, Red Bull, Revolver / Inked, Ronz World, Sailor Jerry Rum, The Music Experience, The Pretty Cult, TickPick, Tito's Handmade Vodka, Travel Smart Vacations, US Army, & Wild Turkey.
Louder Than Life would also like to thank its 2022 Kroger Big Bourbon Bar Partners: Angel's Envy, Boone's Bourbon, Bulleit, Calumet Farm, Elijah Craig, Huber's Starlight, Jack Daniel's, Jefferson's, Kentucky Peerless, Larceny, Legent, Maker's 46, Michter's, Middle West, Old Forester, Rabbit Hole, Resilient Bourbon, Stonehammer, Wilderness Trail & Wild Turkey.
Louder Than Life would also like to thank its 2022 non-profit partners: Artists For Trauma, Demons Behind Me, Fxck Cancer, Headcount, Take Me Home, and To Write Love On Her Arms.
Louder Than Life is produced by Danny Wimmer Presents, one of America's largest independent producers of destination music festivals. Since debuting in 2014, Louder Than Life has continued to develop and grow. In 2019, Louder Than Life welcomed more than 128,000 fans over three days, earning its spot as the largest rock festival in America. For 2021, festival organizers added a fourth day, with the festival kicking off on Thursday and hosted over 160,000 concertgoers.
For more information on #LouderThanLife, please visit:
Website: www.LouderThanLifeFestival.com
Facebook: www.facebook.com/louderthanlifefestival
Twitter: www.twitter.com/ltlfest
Instagram: www.instagram.com/louderthanlifefest
About Danny Wimmer Presents
Since 1995, music industry veteran Danny Wimmer has been producing concerts and festivals, both large and small. In 2011, he formed Danny Wimmer Presents, which now produces the largest rock and alternative festivals in the U.S. By combining A-list talent with local cuisine and culture, DWP has become recognized within the industry for delivering the highest-quality entertainment experiences to fans, artists, sponsors, partners and host cities. DWP creates memorable and all-encompassing festival experiences, leaving both consumers and partners with lasting and meaningful impressions. The confirmed 2022 festival lineup includes Aftershock, GoldenSky Country Music Festival, Inkcarceration Music & Tattoo Festival, Louder Than Life and Welcome To Rockville. Previous DWP festivals include Rock On The Range, Carolina Rebellion, Chicago Open Air, Northern Invasion and more. Since 2020, DWP has been an innovator in the digital content space with over two dozen international live streams, acclaimed social series Offstage with DWP and the DWPresents Channel on Twitch featuring That Space Zebra Show. DWPresents Twitchchannel has broadcast over 576 hours, brought in over 11.7 million worldwide live views, 5.76 million unique views, and viewers have consumed 57.9 million minutes of content since its launch in mid-2021.
Twitter.com/DannyWimmerPres
Facebook.com/Dannywimmerpresents
Instagram.com/Dannywimmerpresents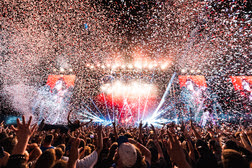 Louder Than Life crowd shot by Steve Thrasher Louder Than Life crowd shot by Sam Shapiro
Louder Than Life crowd shot by Nathan Zucker Louder Than Life crowd shot by Nathan Zucker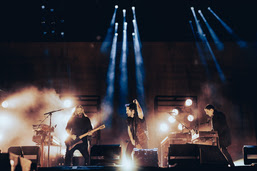 Nine Inch Nails by Steve Thrasher Slipknot by Steve Thrasher
KISS by Steve Thrasher Red Hot Chili Peppers by Steve Thrasher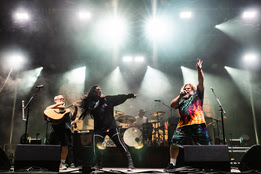 Tenacious D with Amy Lee of Evanescence Lamb of God's Art Cruz as celebrity bartender
by Steve Thrasher in Headbangers Hall by Nathan Zucker
# # #