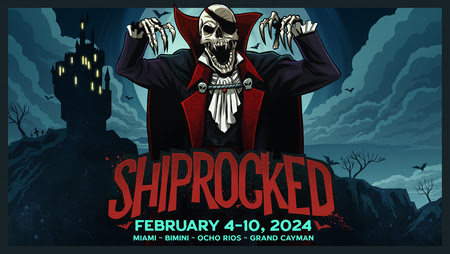 Music Lineup Announced
For Sold Out ShipRocked 2024
I Prevail,
Killswitch Engage, Beartooth, Highly Suspect,
Code Orange, Badflower & More
Confirmed For Carnival Magic Cruise From Miami To The Caribbean,
Visiting Bimini (The Bahamas), Ocho Rios (Jamaica) & Grand Cayman
February 4-10, 2024
Join The Wait List At www.ShipRocked.com
The dynamic music lineup for ShipRocked 2024 will be led by I Prevail and will also featureKillswitch Engage, Beartooth, Highly Suspect, Code Orange, Badflower, a special solo performance from Johnny Stevens of Highly Suspect and more February 4-10, 2024 onboard Carnival Magic. The 14th sailing of ShipRocked departs from Miami, Florida, stopping in three new ports for the ultimate rock music cruise vacation: Bimini, The Bahamas; Ocho Rios, Jamaica; and Grand Cayman.
After record breaking attendance of over 4,000 guests in January 2023 and an expanded 6-day itinerary, staterooms for ShipRocked 2024 sold out in an unprecedented 3 days, well before the music lineup was announced. A waitlist is available at www.ShipRocked.com.
Here's what some of the 2024 ShipRocked artists had to say about next year's cruise:
Brian Berkheiser / I Prevail: "ShipRocked is an institution. And the fact we get to headline is a blessing. We are definitely ready to give all the ShipRockers a kick ass show! And defend our Family Feud title! See y'all there!"
Jesse Leach / Killswitch Engage: "Killswitch Engage, and our appropriately named High Seas Crew, are stoked to be a part of this event, and to play alongside some killer bands! We've always been about having a good time at our live shows, so this seems perfect."
Caleb Shomo / Beartooth: "We've played ShipRocked a few times, and every time it's hard to grasp how much of a family everybody feels like out there. Many attendees are returning customers, which is a good sign of a great event. Playing out in the open water is a pretty wild feeling; nothing can come close to that. We can't wait to come back and rock the boat!"
Badflower: "ShipRocked is the epitome of rock n' roll. And year after year it has become a family reunion with fellow bands and fans that have become friends…A true communal atmosphere and a lot of f*cking fun."
Dorothy Martin: "So excited to be joining the upcoming ShipRocked cruise stopping in the Bahamas, Jamaica and the Cayman Islands and can't wait to jam with my Black Sheep in paradise! See you soon!"
The initial music lineup for ShipRocked is as follows: I Prevail, Killswitch Engage, Beartooth, Highly Suspect, Code Orange, Badflower, as well as Black Stone Cherry, BRKN Love, Cassyette, Catch Your Breath, Crobot, Dayseeker, Dead Poet Society, Dorothy, Eva Under Fire, From Ashes To New, Scene Queen, Tigercub, The Warning, Winona Fighter, Yonaka and more. The music lineup also features special performances by The Stowaways—ShipRocked's fan favorite all-star band–and Johnny Stevens of Highly Suspect.
ShipRocked producer and creator Alan Koenig of ASK4 Entertainment said, "I say this literally every year, but SR24 might just be my favorite (initial) lineup yet! We work hard to provide a big tent for the incredible range of talent that exists in the world of rock music, and I couldn't be more proud and excited about the variety of artists who will be vacationing harder with our guests in February!"
A floating music festival, a rock & roll summer camp held in the dead of winter, a family reunion for the growing number of ShipRockers who have forged lifelong relationships out of a shared passion for music (and an occasional bucket of beer) – ShipRocked is the premier rock music vacation, offering dozens of performances and unique collaborations, artist-hosted events and activities, theme nights, and ample opportunity for fans and bands alike to unwind and create new friendships in tropical paradise.
The ShipRocked community is very supportive of charitable efforts, especially the annual ShipRocked Cancer Sucks! onboard charity auction. During the 2023 cruise, the auction raised an incredible $125,000 for cancer research.
Throughout the year, ShipRocked's community of "ShipRockers"–as well as others from around the world–are staying connected via "Making Waves – The ShipRocked Podcast," which launched in 2020 and is available for free through iTunes, Spotify and Google Podcasts. "Making Waves" features interviews with ShipRocked alumni artists, as well as other top music artists, actors and entertainment industry experts. It's distributed via Sound Talent Media / Evergreen Podcasts and is hosted by Chad Nicefield and Justin Press.
For more information on ShipRocked, visit:
Website: www.ShipRocked.com
Facebook: www.facebook.com/GetShipRocked
Instagram: https://instagram.com/shiprocked
Rock Hard. Vacation Harder.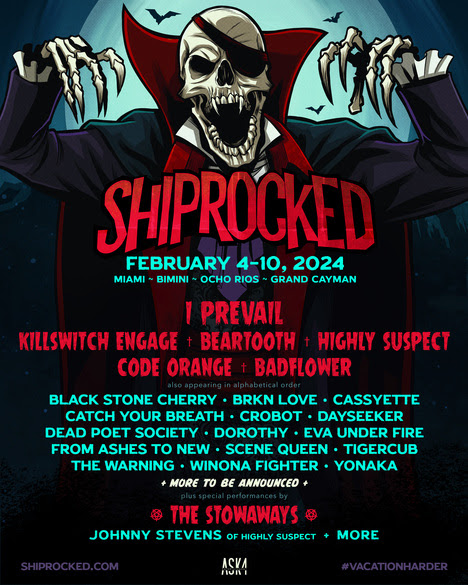 (ShipRocked 2023 Sail Away Family Photo with ShipRocked mascot Skully, ASK4 Entertainment staff and ShipRockers)
About ShipRocked: Produced by ASK4 Entertainment—a premier rock music theme cruise and destination event producer—ShipRocked is the premier rock music cruise vacation with unique performances and musical collaborations, providing guests with the opportunity to vacation with their favorite bands, meet new friends, and reunite with old ones year after year. The full-ship charter provides a one-of-a-kind experience for guests to have the time of their lives with thousands of like-minded friends. ShipRocked experiences include interaction with band members, poolside games, artist Q&A sessions, trivia challenges, game shows, parties, contests and more. The ShipRocked Cancer Sucks! onboard charity auction has raised more than $925,000 to date for innovative medical research and finding a cure for cancer.